After yesterday's realisation that I needed to do some more writing, I went on a bit trip of a pilgrimage. My search was to seek out places where I could write in Spanish and get feedback.
My first port of call was Gabe Wyner's book, Fluent Forever.
I could remember when reading it that he mentioned at least one site online where I could get feedback. So I went back and had a look.
In one of his early chapters, he recommended a site called www.lang-8.com. Apparently there are hoards of Spanish speaking natives just waiting to correct anything you care to pen in the name of linguistic development.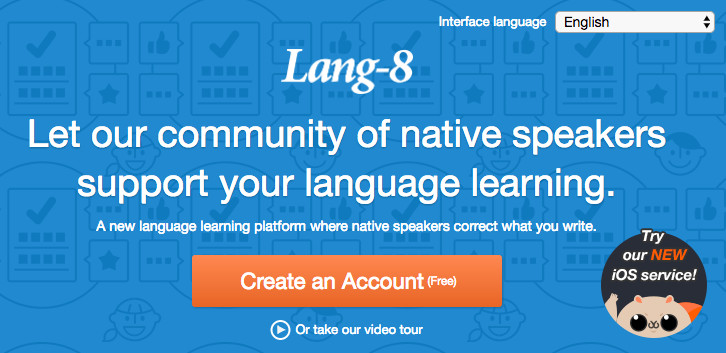 This was very exciting for me. Feedback on my writing is something I definitely need once I get going.
As an aside, I have been extremely impressed with the community spirit amongst fellow language learners from around the world. There are so many people ready and willing to help you develop your fluency.
Of course it is an exchange because it is only fair that you do the same for them too.
We can all learn to speak each other's languages together…
I think we should hug now!
Anyway… back to learning Spanish.
So I popped over to the site to see what I could find. Unfortunately I mis-typed the url and omitted the "-" which meant I got sent to some spammy looking site.
Once I realised my mistake, I eventually found myself in the right place.
Lang-8.com Is No Longer Accepting New Members!
Unfortunately the site was now closed to new members.

Drat!
There was no explanation.
I suspect it is either because of some unscrupulous activity or, their new venture is far more profitable for them and they are sending people there.
Their new venture being the HiNative App.
An Alternative To Lang-8… The HiNative App?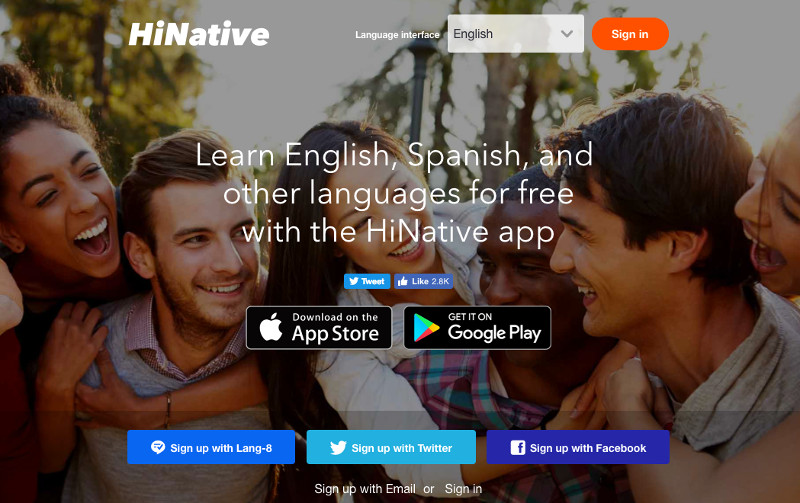 So it was with more than a hint of disappointment that I headed over to the App Store to see if I could find it.
To quote their blurb, the HiNative App is a Q&A platform that allows you to ask Native speakers about their language and culture.
Signing up is very easy and it is free!
All you have to do is choose a username and password and register with your email address.
You let them know what your native language is and which one(s) you are interested in learning.
Then after a quick tour of the facilities, you can then ask any question you like.
To help you with this, there are these 6 question templates you can use to formulate your questions:
How do you say this?
Does this sound natural?
Please show me example sentences with…
What does this mean?
What is the difference between…?
Free Question.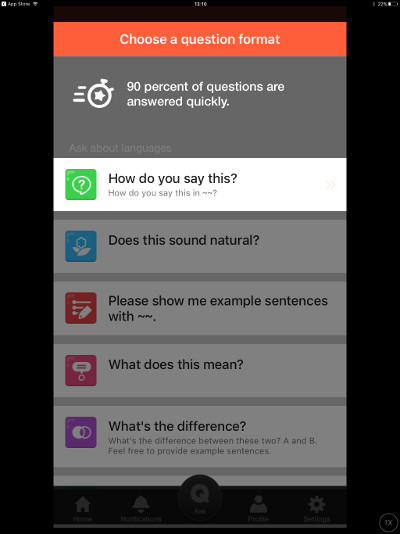 And it is as simple as that.
As part of the sign up process, they have you type in a live question.
I decided to ask "How do you say 'What is the time' in Spanish".
Answers came back surprisingly quickly – within a minute I had two answers.
Someone even recorded the answer for me! How impressive is that?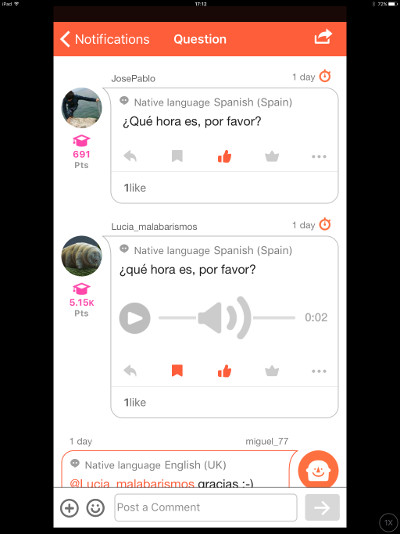 I haven't explored this in much detail yet as I only downloaded it yesterday. I have yet to see just how much writing I can do and expect to get feedback for it. Based on what I have seen so far, I suspect it might only be limited to short sentences and phrases.
However it is a start. I have another channel to access native speakers.
The only downside is that there are lots of annoying ads. If I pay $6.99 a month, I can get rid of them. This will also give me access to some premium content and features.
I think I shall see how much I use it first.
Getting Back On The Path To Fluency
It's been a few weeks since I had a lesson with my online Tutor from italki.com, so I thought I'd book my next lesson.
Booking a lesson is a simple process. Just sign in, find the tutor you want and then follow the links. It couldn't be easier.
Of course having already worked with my tutor, I just had to click on my previous lessons to get to the right link.
She must be popular because she has put her prices up!
Still, it is worth it.
So it was an easy thing to set up a lesson for tomorrow.
However something very interesting happened whilst I was on the site which hasn't happened before.
Whilst online, I received two unsolicited messages from different guys from Spain.
They both wanted to practice their English.
I was quite surprised to get two separate approaches in such a short space of time. Mainly because having spent some time on the site before, I had received none.
Still, their timing couldn't be better.
I realised after my chat yesterday with my Chilean buddy in Perth that I need to speak more often to different Spanish natives.
These two guys were both from Spain.
We had a bit of a message exchange using the italki.com message service and set up appointments for next week.
I was quite proud of myself because I wrote entirely in Spanish. They did the reverse and wrote only in English.
What I did was write out what I wanted to say in the chat box. But before I pressed "send" I did a quick check on Google Translate to see if I needed to make any changes.
I had to make one or two minor corrections, but mainly I was on track.
It certainly confirmed the usefulness and value of writing Spanish. I must say I am far more confident in writing Spanish than I am in speaking it.
Having the pause between thinking, typing, checking on google translate, correcting if necessary and then sending really helps. It takes the pressure off somewhat.
I Can Practice My Writing iTalki Too
And then purely by accident, I discovered that iTalki has a notebook facility. I can journal in Spanish and have native speakers correct my writing.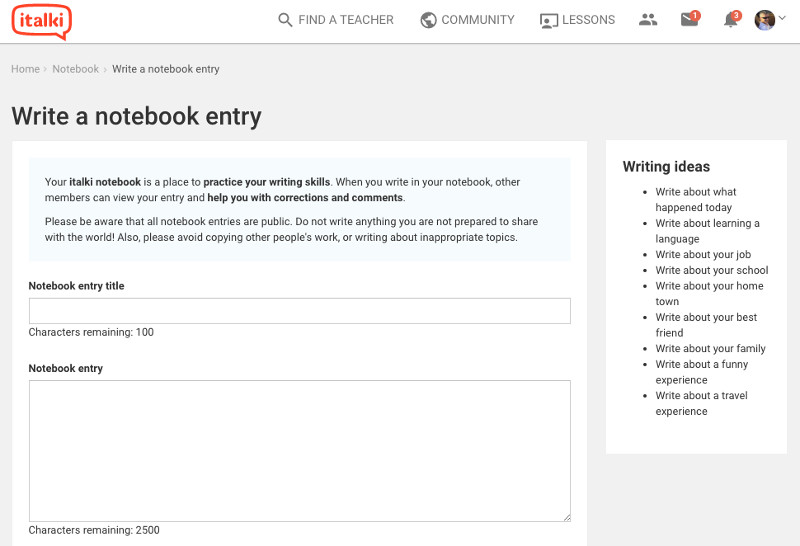 How cool is that?
You can check out the iTalki Note Book Facility here. It's free!
I will let you know how that goes.