After buying Victor's Adventures In Spain, I am convinced Amazon is stalking me.
I am sure it comes as no surprise to you when I say that.  Because all the big retailers are stalking you.  That is how marketing is developing right now.
A couple of weeks ago, Amazon sent me this e mail: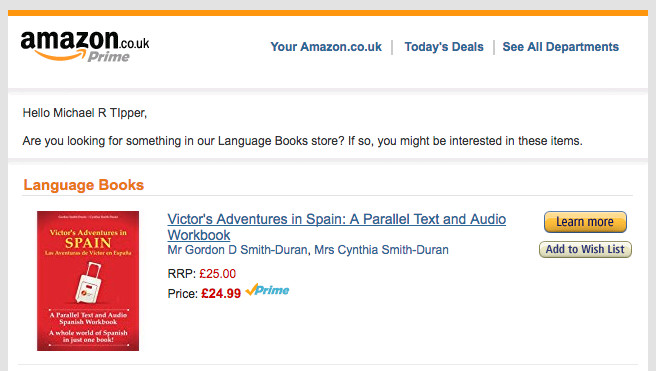 I had just invested in a few Spanish books recommended by Gabe Wyner so Amazon's ears had pricked up when that happened.
Hence this e mail.
So as I am a highly motivated learner of Spanish, I clicked on the link to explore what Victor's Adventures In Spain was all about.
I must admit my cursor paused for a second or too when I saw the price.  But I checked it out anyhow.  And I am glad I did.
First thing I did was check out the ratings.  It has 46 reviews and the average is 5 stars.  Now having that many positive reviews was already triggering buying signals for me.
It is thought that only about 10% of people who buy a book on Amazon will leave a review.  So that means this book has probably sold in excess of 500 copies – another good sign.
I dug a little deeper and this is what the first bit of the blurb said about the book:
There is simply no other book on the market like this one! It's a Spanish/English Parallel Text Book, it's an Audio Book and it's a Work Book all rolled into one…. Designed for varying levels, whether you're an Absolute Beginner or a Seasoned Spanish Language Student, this is the book for you. Victor's Adventures has been written in such a way that it takes the reader on step by step learning journey from BASIC, EASY to FOLLOW Spanish through to a very decent Advanced Intermediate Level.
Again another encouraging sign for me was that it also came with accompanying audios.
It looked promising.  So I ordered it (damn that 1-Click ordering!!!!).
A few days later it arrived.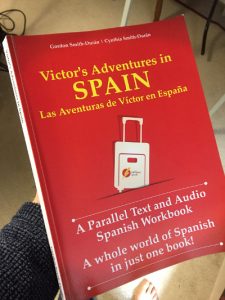 The first thing that is quite impressive about this book, is it's substantial size.  It is A4 and there are 252 pages.  So it is quite a meaty tome.  Just on size alone, it feels like it is worth £25.
It is called "Victor's Adventures In Spain" because it uses the story of our man Victor, leaving the UK and moving to Spain.
Over the 32 chapters, his journey and accompanying adventures are used as a vehicle to help the reader learn and understand Spanish.  It takes the reader from very basic, through intermediate and up to advanced levels of Spanish…. all in one book!
Each chapter follows the same format:
An introduction to some grammar and vocabulary
The transcript of the story in Spanish AND English side by side.
It is a simple format but extremely effective.  The theory is easy to read and understand because you are given it in bitesized chunks first.  Then you see it in action in the story.
The thing I like the most about the format is the English Translation is directly alongside the Spanish text.  That means you can see the meaning of what you are reading right next to it.
It is a brilliant approach and one that will really help me as I start to work through the book.
Another thing that is not initially obvious from just picking up the book, is that each chapter of the story focuses on practical Spanish.  The sort of thing you'd need to know if you were to head over to Spain.
That is another reason why I decided to invest in this book.  As I was flicking through it, on page 128 I found 25 phrases for directions.  These are EXACTLY the sort of things I'll need to know for my trip to Spain… It felt like I had struck gold!
Victor's Adventures In Spain Comes With Audios Too
Any good Learn Spanish resource will have an audio component to it, and this book is no exception.  For ease of access and convenience of distribution, these are electronic downloads.  You get the download instructions in the book and after putting in a "secret" code from the book, you can download the files from their website.
Here's what you get:
Each chapter of the story read out in Spanish (32 files)
Idiomatic Expression recordings (13 files)
3 Audios on Getting Into The Learning Zone
2 songs about the differences between Ser and Estar
Verb Builder audios (13 files)
Vocabulary Builder Audios (24 files)
I haven't been through all of the audios yet because I focused on the recordings of the story dialogue.  It is read out in slow, measured, easy to understand Spanish by one of the authors.
This is a HUGE welcome relief from the rat-a-tat-tat of the Spanish I have been listening to on Radio Nacional.
These audios are just another example of where the authors have kept the learner in mind.
Victor's Adventures in Spain – A Great Resource – Buy It!
I nearly didn't buy this book because of the (relatively) hefty price tag at £25.
But it is more than worth the small price you will pay for such a fabulous book and the additional audio resources.
It is one of those books that makes you think you CAN learn to speak Spanish after all.  So get your copy here now.
It's also available on Kindle.  However buying the paper copy should not be seen as a problem because this is the sort of workbook where you need to jot notes in the margin.
A point to note is that it is focused on the Spanish spoken in Spain.
The Authors of Victor's Adventures In Spain
The author's (Gordon and Cynthia Smith-Durán) have done a fantastic job of putting this all together.  So good in fact, I decided to "stalk" them to see what I could find out.
They run a website called LightSpeedSpanish.
There are over 200 free podcast episodes on the site, as well as over 600 free videos on their Light Speed Spanish YouTube channel.
In addition to all of that they also have a membership site called Ser Socio too at what I think is a ridiculously low price for what you get.  You can check that out here too.
The site is rich with resources and it is a great find for someone at the beginning of learning to speak Spanish like me.
If you are just starting out, or even if you are well on your way, I think there is loads of great stuff on their site.
In fact I was so impressed with the book and the website, that I managed to track down Gordon and convince him to share with me (and you) the background to his book.
We talked for nearly an hour and it was a great conversation.  Just to keep the audio short, I have kept in the last 15 minutes or so where Gordon explains the rationale behind Victor's Adventures In Spain.
He explains the accelerated learning principles behind the book and how to use it.
We also discussed the importance of immersion courses.  The ones he and Cynthia run must be pretty good because they are fully booked for the rest of the year AND they are already booking into 2018!
You can find out more about their immersion courses here.  I am very tempted to book on one myself next year.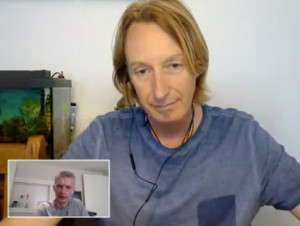 You can get your copy of Victor's Adventures in Spain from Amazon.  My recommendation is that you get your copy now.   You can get the kindle version from here too.
I suggest you act right away because I don't think this book is going to be on the market for much longer.  If I was them, I'd package it up in a video course and sell it for a much higher price.